Tawawa House
Townsend Opera is pleased to announce that the company will partner with Sankofa Theater Company, an African-American theater company based in Modesto, CA, to present the world premiere of Tawawa House, an opera written about a stop on the Underground Railroad at the onset of the Civil War. Matthew Buckman, General and Artistic Director of Townsend Opera, said "I am really looking forward to working with Sankofa Theater Company on this exciting new work. They have presented some very fine works in the past couple of years, and will be a tremendous addition to a project that explores a transformational period in African-American history." Sankofa Theatre Company was founded in 2012, and recently presented Looking Over the President's Shoulder, a play about the African-American butler who served eight presidents in the White House, and The Piano Lesson, a play set in 1936 Pittsburgh during the aftermath of the Great Depression, both at the Gallo Center for the Arts. Sankofa Theater Company is presenting Freedom Riders at the Gallo Center for the Arts later this month. Through the partnership on this new opera, members of Sankofa Theatre Company will perform in lead and chorus roles in the production, and will assist in developing and participating in a series of engagement events in the months prior to the presentation of the new work. John Ervin, Executive Director of Sankofa Theatre Company, said "We are just thrilled to be partnering with Townsend Opera on this historical project. An opera with an African American storyline at a pivotal period of time in history was an opportunity to continue Sankofa's symbolic meaning of learning from our past so we may move forward in the future". About Sankofa Theatre Company The Sankofa Theatre Company was founded in 2012 by John Ervin III, Cheryl Knox, Elizabeth Garmon and Gregory Savage after working together as cast members on the set of Prospect Theatre's and Gallo Center for the Arts smash hit production of To Kill A Mocking Bird in 2011. The group decided to launch an African American Theatre Company that would bring African American life, history and culture to the forefront in Modesto and give youth in the area the opportunity to participate in all facets of culturally relevant performing arts. Sankofa's first production was the highly successful The Piano Lesson and was followed up the highly acclaimed Looking Over the President's Shoulder. Sankofa's mission is to develop and promote the cultivation of African American history, life and culture through the performing arts. Sankofa seeks to create unforgettable moments that remind others of our common humanity, sharing the unique characteristics of the African American diaspora with the broader community.
---
The Freedom Riders

When the Sankofa Theatre Company started in December, co-founder John Ervin III said he'd be happy to get one full production under the troupe's belt in its inaugural year. Now, less than a full year later, the group is set to complete its third show. Modesto's first black theater company will perform "The Freedom Riders" at the Gallo Center for the Arts on Saturday. "The response has been tremendous and overwhelming. We want to embrace what's happened to us and continue to enlighten the community through theater from an African-American perspective," Ervin said. "We originally set out to do one a year, but opportunities keep coming our way and we keep accepting them. We're at a good place right now with our theater." "The Freedom Riders" chronicles the bus rides civil rights activists took in 1961 to fight racial segregation. Ervin said the piece, written by Philadelphia-based playwright Tom Quinn in 2001, was selected as an homage to the 50th anniversary of the March on Washington. The Freedom Rides two summers earlier helped pave the way for the historic march in Washington, D.C. "We wanted to present this in a way that could educate young people about the historical significance of the Freedom Rides," Ervin said. "It's our goal is to educate our entire community, but young people in particular, about the civil rights movement." The play re-enacts the rides and brings in significant figures, from Martin Luther King Jr. to Rosa Parks and Malcolm X. The cast of about 15 includes area actors and college and high school students. Ervin said having students make up the majority of the cast is only fitting, considering the key roles students played in both the Freedom Rides and civil rights movement as a whole. Sankofa Theatre Company, which took its name from a West African term that means learning from experience in the past to move forward in the future, finished its first show ("The Piano Lesson") in February and its second ("Looking Over the President's Shoulder") in July. "We've been really touched and we hope they've been able to educate and entertain," Ervin said. "It's been a blessing to be able to start off so strong."
---
Looking Over The President's Shoulder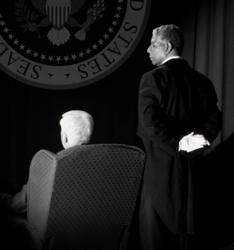 Dwight D. Mahabir in "Looking Over the President's Shoulder"
Modesto, CA (PRWEB) June 20, 2013 Modesto's new African American theatre troupe, Sankofa Theatre Company, will team with the Gallo Center for the Arts to present "Looking Over the President's Shoulder," a one-man play written by James Still, directed by Richard Mann, and performed by Dwight D. Mahabir. The production is coming to the Gallo Center for three performances, July 12 – 14. Tickets are $10, $15 and $20, and may be purchased online at GalloArts.org, by calling (209) 338-2100, or at the Gallo Center ticket office, 1000 I Street in downtown Modesto. "Looking Over the President's Shoulder" is the true story of Alonzo Fields, who accepted a job as a butler at the White House in 1931. His plan was to work there for the winter, but that winter lasted 21 years. Based on the memoirs of the grandson of a freed slave who grew up in an all-black town in southern Indiana, the play shows how Fields is forced by the Depression to give up his dreams of becoming an opera singer and take the job at the White House, where he quickly was appointed Chief Butler and went on to serve four U.S. presidents and their families: Herbert Hoover, Franklin Roosevelt, Harry Truman and Dwight Eisenhower. Reviewing a 2009 production of the play with Mahabir, held at the Little Opera Hall in Modesto, columnist Lisa Renner of the Modesto Bee noted that accomplished actor and musical theater performer is "an engaging storyteller who makes history come to life… Sometimes he's serious, sometimes funny, sometimes angry. Through it all, he maintains an admirable dignity and strong sense of self."
---
The Piano Lesson
Cast members, Greg Savage (Wining Boy) in Modesto's new African-American theater group- Sankofa Theatre. These are photos from the group's first production in February of "The Piano Lesson."
By Lisa Millegan Renner — lrenner@modbee.com
Modesto's new black theater company, Sankofa Theatre, sure knows how to make an entrance. The group's first production, of August Wilson's "The Piano Lesson" at the Gallo Center for the Arts, is a soaring achievement that shows this is a company to be taken seriously. The wonderful eight-member cast received a standing ovation on opening night Friday at the 444-seat Foster Theater. It's too bad the last perfor- mance is today — Super Bowl Sunday. If you're not a football fan, be sure to buy tickets to this show. Sankofa was founded by black cast members who appeared in Prospect Theater Project's smash-hit production of "To Kill a Mockingbird" in 2011. They enjoyed working together so much, they wanted to continue and they wanted to provide more opportunities for black talent in town. They asked Jim Johnson, the white director of "Mockingbird," to direct their first show, and he happily agreed. "The Piano Lesson" is a great choice for a debut production because it's highly entertaining, combining a ghost story with family drama, comedy and the blues. It's part of Wilson's Pittsburgh Cycle, consisting of one play for each decade of the 20th-century set, and it won Wilson one of his two Pulitzer Prizes. His other Pulitzer Prize winner, "Fences," which also is part of the cycle, coincidentally will be performed Feb. 8 through March 17 by Stage 3 Theatre in Sonora. Set in the 1930s, "The Piano Lesson" centers on a battle over an antique piano decorated with carvings of family ancestors in a Pittsburgh home. Berniece wants to keep it in the family, but her brother Boy Willie wants to sell it so he can get money to buy the Mississippi land the family's ancestors once worked as slaves. Adding to the tension is the fact the piano is no ordinary musical instrument. Some family members believe it's haunted by the ghosts of the slaves. There's reason to believe the ghosts of the slave-owning family may be lurking about, too. The cast members seem to genuinely enjoy working with each other and performing their parts. They have so much fun with their roles, it's impossible to not have fun watching them. John Ervin III pulls out all the stops as the charismatic Boy Willie, filling the stage with his big personality. When he's not making forceful arguments about why the piano should be sold, he cracks jokes, leads his family in singing the blues or dances wildly about the stage. Cheryll Knox is stubborn and prickly as Berniece (she alternates in the role with Elizabeth Garmon). She is every bit as committed to her position as her brother is, and she is not about to back down. Dwight Dean Mahabir is a calming presence as the siblings' Uncle Doaker, who owns the home where Berniece, her daughter and the piano reside. Offering comic relief are Gregory S. Savage as Doaker's free-spirited gambler brother Wining Boy and Adam Torrian as Boy Willie's skirt-chasing sidekick Lymon. A highlight of the show is when all three plus Ervin sing a soulful blues song a cappella together. Samuel John Mellor provides some old-fashioned Pentecostal religion as the preacher Avery. Garmon is feisty as Grace, who flirts with both Boy Willie and Lymon (Knox alternates in the role). Keiauna Ervin is sweet as Berniece's daughter Maretha (she alternates in the role with Samara Garmon). Johnson keeps the action moving smoothly and adeptly uses sound effects and smoke to show the ghostly presence in the house. Jack Souza, Prospect Theater Project's artistic director, has created a stunning set that includes a vintage kitchen, tall staircase and lovely antique furniture. Costumer Jill Mochizuki outfits the cast in attractive retro hats and suits. Hopefully we won't have to wait long before Sankofa Theatre stages another show. Modesto needs more of what these talented artists have to offer.